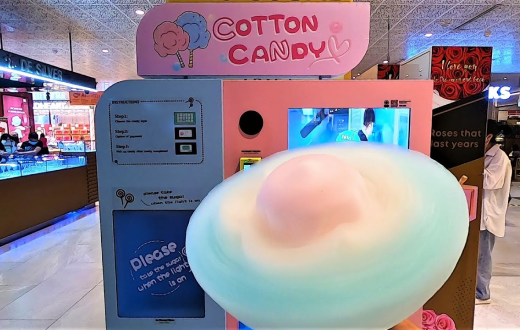 Cotton candy is one of those classic childhood treats that never seem to go out of style. And what could be more fun than getting your cotton candy from a vending machine?
As a kid, you can probably remember the way it felt in your mouth and the way it tasted. It was the perfect sweet snack for a hot summer's day. Apart from the inconvenience of sticky fingers and its inevitable attraction to fluff, there was really nothing not to like about it.
If the thought of bringing back those memories fills you with excitement, read on!
How do Cotton Candy Machines Work?
Cotton candy machines work by heating sugar and spinning it around a hot metal disk. As the sugar spins, it melts and forms a sticky thread. This thread is then wound around a cone, resulting in the fluffy, cloud-like cotton candy we all know and love.
Various settings allow you to adjust the amount of heat and the speed of the spinning disk. This will enable you to make cotton candy that is just the right consistency.
Most commercial cotton candy machines have a heating element and a spinning head. Sugar is then added to the heating element, which melts, and the molten sugar is drawn up into the spinning head, spun into thin strands, and ejected from the machine.
The heating element and the centrifugal force from the spinning head work together to keep the candy in a fluid state, making it easily ejected from the machine.
How Do I Choose the Right Cotton Candy Vending Machine?
If you're looking to add a little sweetness to your business, there are a few things you should keep in mind when selecting a cotton candy vending machine.
Size
First, consider the size of the machine. If you have a small space, you'll want to choose a compact model that doesn't take up too much room. These machines are typically smaller and have a lower price tag than their full-sized counterparts.
However, if you have plenty of space, you may want to opt for a larger machine that can produce more cotton candy per batch. This will come in handy if you expect a large crowd or plan to use the machine frequently.
Capacity
The capacity of a cotton candy machine is important to consider as well. If you're planning to use the machine for large events, you'll want one that can accommodate many people.
On the other hand, if you're only planning to use it for small gatherings, you can get away with a smaller machine. The good news is that there are many options on the market, so you should be able to find one that meets your needs.
Price
First of all, they are not cheap. A good quality machine could cost upwards of $1000. But if you're planning on using it for business purposes, it's a sound investment.
Of course, price is always a factor when making a purchase. Fortunately, there is a wide range of prices for cotton candy machines. You can find budget-friendly models that are perfect for home use and commercial-grade machines designed for heavy-duty use.
New cotton candy machines start at around $600, but you can find used machines for as little as $200. If you're only looking to use a machine for a short time, you can rent one for around $100 daily.
Features
When shopping for a cotton candy machine, you'll also want to consider the features that are important to you. Some models come with built-in lights and speakers, while others have unique features like flavor dispensers.
Think about which features are most important to you and choose a machine that includes these features.
Ease of Use
You'll also want to consider how easy the machine is to use. Some models are straightforward and can be used by anyone, while others require a bit more knowledge to operate.
If you're planning to use the machine frequently, you'll want one that is easy to use. However, if you're only using it occasionally, you may be able to get away with a more complex model.
Do I Need a Permit to Operate a Cotton Candy Vending Machine?
This will depend on your local regulations, but you will not need a permit to operate a cotton candy machine in most cases. However, you may need a permit to sell food items produced by your machine, so check with your local authorities before setting up.
It may sound a bit nit-picky, but it's always best to stay on the right side of the regulators; you may not be able to sweeten them up with a Cotton Candy persuasion spell!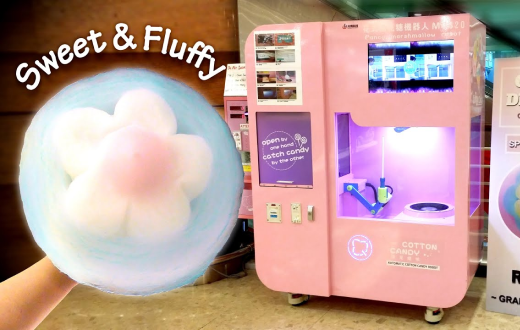 What Else Do I Need to Get Started?
In addition to the machine itself, you'll also need some supplies. Most importantly, you'll need sugar. You can buy specifically formulated cotton candy sugar, or you can use regular granulated sugar. You'll also need some bags or containers to hold the finished product.
You may also want to consider investing in a cotton candy vending machine cart or stand to put your machine on. This will make it more mobile and allow you to set up shop just about anywhere.
Now that you know what to look for in a cotton candy machine, you're ready to start shopping! Keep the factors above in mind as you compare different models and make your decision.
Where Can I Get a Cotton Candy Machine?
You can get your hands on a cotton candy vending machine in a few different places. You can buy them new or used or rent them for a short time.
New Machines
If you're looking for the latest and greatest models, you'll want to buy a new machine. You can find new machines at specialty kitchen stores, online retailers, and commercial wholesale suppliers.
Used Machines
If you're on a budget, you may want to consider buying a used machine. You can find used machines for sale online, at flea markets, and even in some thrift stores.
Just inspect the machine before buying it to ensure it's in good working condition.
A word of warning: if you're serious about your cotton candy business venture, a good workman always invests in the best tools, so unless you know the working history of the used cotton candy vending machine you've got your eye on, it may be best to steer clear.
Renting
You can also rent a cotton candy vending machine for short-term events. Renting is an excellent idea if you're not sure you want to commit to buying a machine or if you only need it for a one-time event.
So, there's really nothing stopping you from bringing back the fanciful, whimsical imagination of childhood inspired by cotton candy. Just be sure to research, get the right supplies, and most importantly, have fun with your cotton candy vending machine!