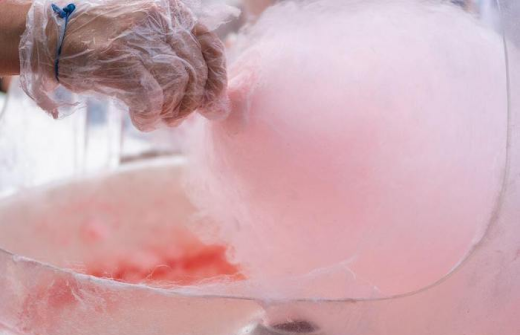 Are you ready to select the best cotton candy machine for your needs? Cotton candy is a treat that has been around for generations, and it can seem to be a magical experience for those who enjoy it. It's a fluffy confection that can be infused with an array of flavors and colors. This is a perfect addition to a birthday party, fundraiser, and many other events. Fresh cotton candy has a higher quality than prepackaged options.
Before buying a cotton candy machine there are some things you should take into consideration. Before you get started, it is imperative to know that there are two basic cotton candy machine types. The two types of cotton candy machines that are available today include commercial and consumer versions. There are some differences between the two versions of cotton candy machines and here they are:
Consumer or Home Editions-Consumer a home addition for cotton candy machines is great for families and friends to utilize regularly. However, there is a downside to this type of machine if you wish to make higher quantities of cotton candy. Home additions do not make as much cotton candy as commercial machines. It is important to choose the type of machine accordingly, and selecting the right machine can supply enough cotton candy for the right crowd size. If you have a smaller event and would like to make a couple of bags of cotton candy ahead of time for a slightly larger gathering, then a home edition will be an excellent choice for you.

Business and Commercial Editions – Business and commercial editions of cotton candy machines are available, and they can be more expensive than those used for residential settings for smaller groups. If you are visualizing cotton candy made at a festival, fair, larger groups, or even sporting events, then you are thinking about a

commercial cotton candy machine

. This type of cotton candy machine can be mounted on carts to be more portable. Also, these types of machines can create lots of cotton candy in a shorter time.
Important Machine Features
Do you know the important machine features for any cotton candy machine, whether it be for a residential setting or a commercial event? It is essential to know that cotton candy machines do not have many unique features. All cottonwood candy machines have been made virtually with the same idea in mind, which is to make either small or large batches of cotton candy. However, what makes a cotton candy machine the best is the quality of its parts, components, and the quality of cotton candy it produces. Consider these features before investing in any cotton candy machine, whether it be for commercial reasons or a residential setting:
Central Features To Look For
Total Package - Some cotton candy machines come with everything you need to get started, and some do not. It is imperative to look for a cotton candy machine package that suits your needs. This may include a package that has floss sugar included to get started.
Safe To Use – when considering purchasing a cotton candy machine, look for its safety features such as locking mechanisms. This will help you to prevent the hot melted sugar from spilling somewhere or on somebody. Also, safety guards should be in place to prevent sugar, debris, and threads from getting into the motor. It is important to know that a lot of people like cotton candy and you may draw a crowd. Therefore, the safety features of any cotton candy machine should be high quality and this includes a bowl locking mechanism.
The Overall Speed - did you know that single cotton candy machines required you to wait longer than other models that are available for both commercial and residential use. It's important to keep this in mind because if you have a larger crowd, you want to make sure that the speed of your cotton candy machine can keep up with the demand. Some machines can produce up to four servings every minute, and others might take up to seven minutes to deliver a serving of cotton candy. If you are purchasing a residential or consumer machine, it is imperative to note the wattage and motor speed. This will indicate how fast your machine can produce a serving of cotton candy. It can be harder to find this information for consumer machines, and you may need to contact the company before your purchase to ensure that you are making the best investment.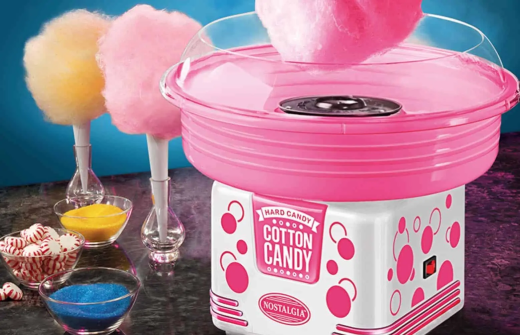 Cotton Candy Machine FAQs
Q. Is it possible to make custom flavorings and change flavors with a cotton candy machine?
A. Definitely! It is possible to combine flavors to create more fun while eating cotton candy. Yet one of the easiest ways to experience different flavors is to purchase an array of flavored floss sugar. Also, it is possible to add your flavors to the machine if we can handle superfine sugar or granulated sugar. Some cotton candy machine operators use different candy flavorings and liquid extracts in the same way as a food coloring. However, it's best not to use any essential oils in your machines because this may cause adverse effects. In addition to this, using essential oils may make people feel sick because you are heating the essential oils with sugar and this may cause a chemical reaction. It is best to stick to compatible liquid flavorings that all of the sugar can absorb.
Q. How to make cotton candy in an array of colors?
A. Cotton candy that is presented in different colors can be fun to make and fun for those who eat it. One of the simplest ways to do this is to buy candy floss and the colors that you would like to use. Another quick trip is to use food coloring if your cotton candy machine is compatible with granulated sugar. This can be achieved by mixing either food coloring liquid or food coloring gel with the sugar before it's added to the cotton candy machine.
Both making and eating cotton candy can be a fun experience. Another quick tip is to remember that you should look for a machine with a superior heating element. This is because melting sugar is just one of the first steps to making cotton candy. Look for a machine that will keep the sugar mixture at a consistent temperature.