A craving for cotton candy has just come over you! But there's not a circus or state fair to be had for miles. Not to worry! You can now make the velvety treat right at home, anytime you want. It's a great family activity! All you have to do is decide which machine is best for your candy making needs.
Keep reading to learn about some of the best cotton candy machines for home use.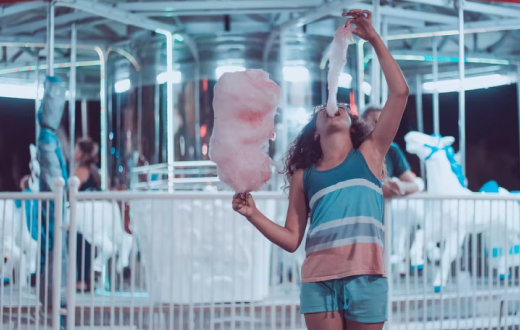 1. Cotton Candy Express
Bring the carnival right to your home with this fun and colorful machine. The pink veneer makes it look like cotton candy. It comes with different sized cones for different sized appetites. Five jars of flavorful fun are included with the candy maker. Each jar makes about 20 servings. It can be used indoors or out, so it's great for parties, BBQs, sleepovers, or movie nights. Cotton Candy Express can bring hours of fun for everyone!
2. Flufftastic Cotton Candy Machine
If you're looking for quick and quiet, Flufftastic is fantastic! Assembly is easy and you can make fluffy fun in as little as 5 minutes. With its steel parts and advanced technology, it's considered one of the safest cotton candy makers on the market. It will never overheat, so it's safe anywhere it's used. Flufftastic comes in a bright blue color. There is an optional nostalgic cart that is a delight at gatherings.
3. Nostalgia PCM205 Hard Candy and Cotton Candy Maker
This simple-to-use fluff maker is one of the best your money can buy. It's lightweight and compact. The machine secures on the counter and tablet tops to assure no toppling of hot sugar. 2 reusable cones are included. It's super easy to take apart for cleaning. You won't have to fiddle with a million little parts! A clear rim lets you watch as the candy is spun. Nostalgia is one of the safest on the market, so it can be used by kids. A unique feature is that it also makes hard candy. Nostalgic treats for all!
4. Time Wave Cotton Candy Maker
If your looking for a machine that's great for kids, look no further than just Time Wave. It's kid safe. It comes with suction cups to keep it in place. There's also a splash guard that prevents any hot sugar from flying around. 10 bamboo sticks and a sugar scoop are included. The Time Wave is great for family nights, play dates, and birthday parties. Every kid will love making their own cotton candy! With just one button, it couldn't be easier to use!
5. VIVO
The VIVO is a bit large. It probably won't do well in a smaller kitchen. However, it is perfect if your family does a lot of entertaining and throws many parties. Even if your house is the house where all the kids congregate. This machine will be used regularly. This candy maker has the ability to make oodles of cotton candy at once. It also makes it fast, turning a pile of sugar into delicious fluffy clouds in less than a minute. VIVO comes with a stainless steel bowl that's quick to clean. It even has a cash drawer which makes it great for fundraisers or to replace the usual lemonade stand.
6. Ancrown Cotton Candy Machine
Efficiency! If that's what you want in a cotton candy machine, Ancrown is for you. The Ancrown is compact. It comes with a cute stand that will be affixed to the counter. The mixer bowl is made from non-stick material that makes cleaning a breeze. It's simple design makes it the perfect gift for a child or anyone who wants to make cotton easily.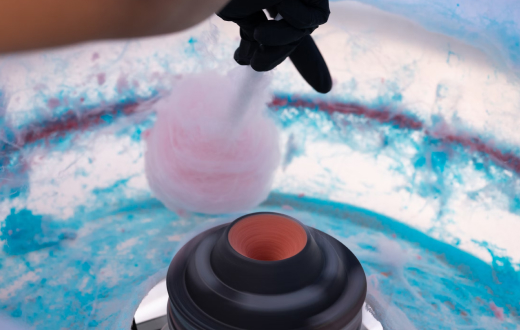 7. Chef Buddy Cotton Candy Maker
Chef Buddy is a great cotton candy maker if you're short on space or traveling. Don't let the size fool you though. It will quickly churn out the delicious treat at lightning speed after a 5 minute warm up time. For great tasting, inexpensive cotton candy at home, Chef Buddy is the best!
8. The Candery
The Candery has a sleek, fun design. With its hot pink color and matching sticks, it's sure to be a hit! It's great for house parties or to pull out after dinner. The machine has a stainless steel bowl for easy clean up. There is a clear top so you can watch the sugar spin into mouth watering cotton candy. Use any type of sugar floss flavor you like. Rock candy can also be made with this exciting machine.
9. Party Hut Cotton Candy Maker
The Party Hut is guaranteed to give carnival grade cotton candy. A unique feature of this machine is that it won't turn on until it's securely in place. The compact and lightweight design makes it great to take on the road. Bring it to parties, grandma's, or even to work! Party Hut works fast. Making 2-4 servings per minute.
10. Fohere Cotton Candy Maker
Fohere is extremely easy to use. So it makes a great gift for young and old alike. The vintage design makes for a fun addition to any kitchen or family room. With one button action, there's no confusion when using this machine. Just pour the sugar in, twist the stick and you'll have flavorful floss in no time!
If you're in the mood for cotton candy, there's no need to wait for the sound of the circus train. Simply purchase one of the many great machines listed above. You'll be able to have a fluffy delicacy anytime, without having to leave the house! Enjoy! Don't forget to brush your teeth!