Are you ready to learn about the best gourmet hot chocolate makers? Although there are some ways that you can commence making cups of hot chocolate, a hot chocolate maker has been designed to make this gourmet experience simpler. A hot chocolate maker has been created for use in kitchen settings and it is a rather small appliance. Gourmet hot chocolate makers allow users to add custom flavorings, shaved chocolate, and syrups.
All gourmet chocolate makers are not created the same, and many of them have several capabilities that reach beyond making hot chocolate. Also, you may find that several hot chocolate makers have different attachments that are included with the appliance.
Gourmet hot chocolate makers are capable of making café-style hot chocolate. The best appliances for making hot chocolate create a smoother, richer, and creamier texture overall. Here are some of the best gourmet hot chocolate makers that you can find today.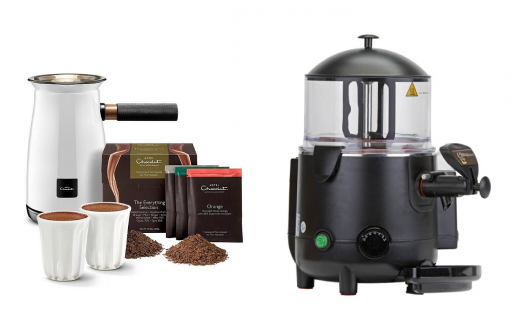 The Velvetiser
The Velvetiser has a sleek and modern design, and the copper edition is especially impressive. This is a gourmet hot chocolate maker made by Hotel Chocolat, and it is simple to use. To use this gourmet hot chocolate maker, the only thing that you have to do is to feel the unit with any type of milk. The types of milk that you can use in this unit include plant-based milk, cow's milk, and even goat's milk. Also, if you would like, you can simply use water.
Next, you add your chosen hot chocolate mix or powder to the gourmet hot chocolate machine. After all the ingredients are in the unit, you add the lid, then press the button that's in front of the machine. The whisk that is inside will mix the hot chocolate into a smooth and luxurious hot beverage. To top this off, it only takes about three minutes for the entire process after all the ingredients have been added and pressing the start button accordingly. The Velvetiser is available in different colors, including platinum (the appearance of stainless steel), charcoal, and white.
Adcraft HCD-5
The Adcraft HCD-5 is a gourmet hot chocolate maker and dispenser that has the capability of holding 5 L at one time. It has a unique design, and it's designed to allow consumers to see the hot chocolate warming in the unit. This gourmet hot chocolate maker has a nozzle and faucet that are anti-clogging. This feature ensures that your hot chocolate will remain smooth, and the consistency and texture remain the same with every cup.
It also has an excellent heating system that allows you to heat your hot chocolate to an ideal temperature for you and your guests. One of the foremost features of this gourmet hot chocolate maker is the fact that it has an action that ensures that there will be no settling at the bottom of the unit by continuously stirring at all times. The power switch is illuminated for easy use, and there is a drip tray with a float indicator. The Adcraft HCHCD-5 features a boiler tank that is stainless steel, and the heating element helps to ensure that durability is superior. In addition to this, there is an overheat sensor and reset button on this gourmet hot chocolate machine.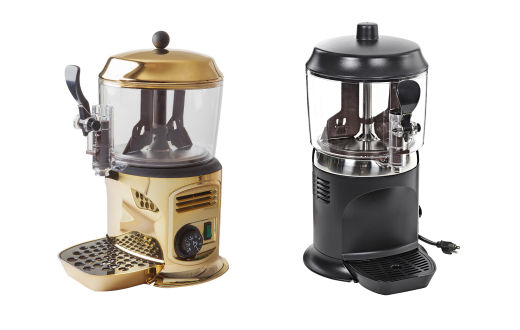 Chocolate World M1088-G
The Chocolate World M1088-G is a premier gourmet hot chocolate maker and dispenser. It is available at two different voltages, including 110 volts and 220 volts. This is a unit that is imported from Belgium and has an elegant design. The beverage container of the unit has been made with polycarbonate, which is food grade.
What's more, it is easy to clean because the beverage container can be removed completely, and it can be removed when it's full of hot chocolate as well. Other removable parts include the faucet of the machine and this makes it easier for cleaning overall.
There are adjustable temperature settings for the M1088-G. This gourmet hot chocolate maker is available in several different colors, including black, silver, gold, and white. That entire unit can hold up to 5 L of hot chocolate, and when the unit is empty it weighs 8 kg. It has been specially designed for mixing and for dispensing thicker gourmet hot chocolate beverages.
Benchmark-USA 22011
The Benchmark-USA 22011 is a gourmet hot chocolate maker and dispenser that can be used in a variety of settings, including residential, restaurant, snack bars, and concession stands. The entire hot chocolate unit holds approximately 5 quarts of liquid. This is an excellent choice if you're worried about refilling the unit constantly because this unit can hold quite a lot. The Benchmark-USA 22011 has a polycarbonate construction, and this means that you can safely store any hot chocolate that hasn't been used in the refrigerator for later use.
This is a machine that has paddles that rotate inside of the bowl, and this will ensure that all the hot chocolate is mixed evenly. The paddles also ensure that the hot chocolate is heated at a distributed level. This makes sure that every cup of hot chocolate is the best possible, and stays delicious. The unit features and thermostat are adjustable and the maximum temperature is 194° f. One of the central features of this unit is that many of the parts, such as the dispensers and the tap can be cleaned in the dishwasher.
To conclude, in the United States it may be a little harder to find a gourmet hot chocolate maker under this name. If you reside in the United States or you wish to have a gourmet hot chocolate make a ship to anywhere in the states, it's important to look for a gourmet hot chocolate dispenser with paddles that are integrated with the beverage bowl for mixing the hot chocolate.
Gourmet hot chocolate makers have been designed to handle thicker hot chocolate recipes. Also, a gourmet hot chocolate maker should not be confused with a cappuccino hot chocolate station. Cappuccino hot chocolate stations are usually larger and usually require only water to make the hot chocolate. Gourmet hot chocolate makers produce a richer and higher-quality product that is superior to these stations.