A lollipop making machine is required to manufacture lollipops. With it, you will have a full array of functions to obtain the results you desire. There are small-scale machines, handmade machines, and other kinds of lollipop making machines available.
There are other factors you should take into consideration as well before you buy, to ensure you have the right machine for you. Thus said, the following includes the important factors to consider:
Purpose
Considering the purpose of making lollipops goes a long way in making a wise decision about buying the right lollipop making machine. Of course, it doesn't make sense to buy a costly machine that is made for daily use, if you will only use it for special occasions, for instance.
Also, most of these machines can coat, mix, wrap, label, and pack accordingly for high accuracy. But even then, it is important to choose one that will give your desired output of production.
Components and Parts
The major machine components include the following:
Hooper

Sensors

Control unit

Electric unit

Mixing tank

Conveyor unit

Cooling unit

Pneumatic system

Molding unit

Dispatch chute
So, your manufacturing company should know about these important parts to choose accordingly. For instance, a hopper is a funnel made to hold ingredients and loose materials in the production of lollipops. Sensors also have more contribution that notifies changes occurring in the machine.
Some lollipop making machines have an extruder, mixer, coating pan, cooling tunnel, and a pop former. So, you must choose one that is more beneficial for your production line.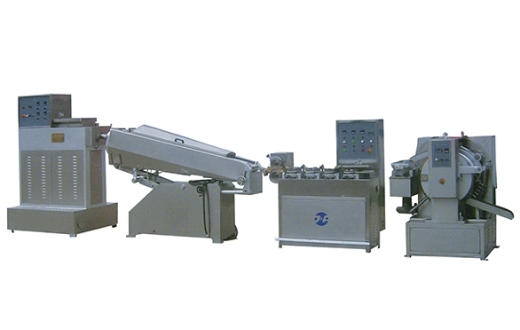 Type of Machine
You will better meet your objectives and other significant things when having the best lollipop making machine. So, even though round and flat lollipop making machines are available, they don't meet the requirements of big industries.
An automatic machine provides various advantages for many companies. They may have configurations that lead to optimal results. They also provide high safety for users who may need them to avoid complex problems. In fact, they have some sensors that can detect safety problems in advance. Also, users can clean them safely and quickly.
Production Capacity
Capacity is an important feature to consider when buying a lollipop machine. However, it may vary from one machine to another machine.
Automation is another important aspect that plays a key role in deciding the overall capacity of a machine. A fully automatic machine is quite faster and offers high efficiency to manufacturing units.
At the same time, a semi-automatic machine runs slow which takes more time while carrying out important work.
A manufacturer should also consider the power rating of a machine before investing money. This is because a highly powered machine enables a company to ensure more production.
It is essential to outweigh the production capacity of equipment from technicians or experts before purchasing a machine. Customers should also give more importance to technical specifications when choosing lollipop equipment.
Cost
Cost is another thing to keep in mind while purchasing a new machine.
A manufacturer should explore many options from different sources that will help select a machine at estimated budgets.
They should compare the prices of vendors online which gives ways to select a machine with the best deals to save money. Moreover, they can contact a company directly through email and phone to know more details.
Manufacturers should also consider reading reviews of suppliers and manufacturing firms that will help select the right one. Since the prices of machines vary, production industries should evaluate them properly.
Several factors will influence the costs of a lollipop machine and production units should be aware of them in detail. Some of them include construction materials, automation levels, production capacity, size, brand, shipping, etc.
Maintenance
Maintenance is the most important factor to consider while buying a lollipop vendor or manufacturer.
This is because the costs of replacement parts and repairs may become expensive in some cases and customers should know how to run a machine perfectly for long hours.
It is necessary to select a machine that comes with a warranty and guarantee.
Having the right type of lollipop machine in a production unit provides ways to maximize profits significantly.
Therefore, one should pay attention to the details of a machine with more attention before purchasing that will streamline the operations.
New consumers should read reviews of suppliers and manufacturers online that ultimately give ways to select the best one which suits the needs of a business.
Conclusion
A lollipop making machine is required to manufacture lollipops, and you will have a full array of functions to obtain the results you desire. However, there are other factors you should take into consideration as well before you buy, to ensure you have the right machine for you. These considerations include purpose, cost, features, production capacity, and more.
When you choose the right one for your company, you will have optimal results. So, do some great shopping for the right lollipop making machine and enjoy!