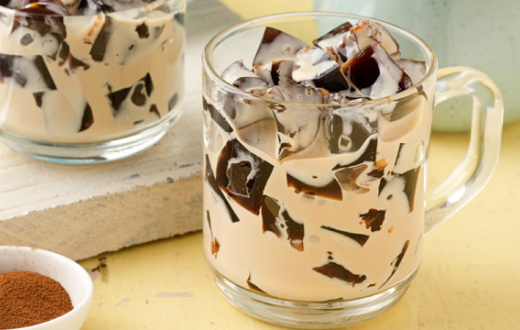 Coffee jelly is a sweet jelly made from coffee and other ingredients. It was first introduced to Europe in the early 1900s but gained popularity in Japan after World War II. Nowadays, many restaurants, cafes, and bakeries in Japan, Korea, Taiwan, and many other Asian countries serve it.
The flavor of coffee jelly is similar to that of coffee itself, which is sweet but with an acidic tang. In terms of texture, it's very similar to Jell-O, which is a soft, slightly jiggly substance. 
Because of its unique taste and texture, coffee jelly is often paired with other desserts like ice cream or cake. It can be heated to make a warm dessert, but it's more common to serve it cold or at room temperature. 
Ingredients Needed for Coffee Jelly
To make coffee jelly, you will need water, a gelling agent, and sugar. You can make it using any type of coffee you'd like, but if you're looking for some guidance, here are some options:
Drip brew: Drip coffee is made by pouring hot water over coffee grounds in a filter-lined vessel. Water drips into a carafe below after filtering through the coffee grounds. The resulting brew is strong and full-bodied, with an intense flavor profile. It's also easy to make: all you need is hot water, ground coffee beans, and a few minutes of your time.
Pour Over: Pour over coffee is a brewed beverage made by pouring water through a filter containing ground coffee beans. It is prepared by placing a paper filter in a cone-shaped dripper, adding ground coffee beans to the dripper, then slowly pouring hot water over the grounds.
Cold Brew: This is a method of making coffee that involves immersing ground coffee in cold water for a long period. This process results in a coffee with a smooth, rich taste and aroma.
Instant Coffee Powder: This is made from the ground and roasted coffee beans. It is often used in place of regular coffee because it can be prepared faster than regular coffee and requires no brewing or additional equipment.
Canned Ready-Made Coffee: Ready-made canned coffee comes with pre-ground coffee beans and comes in various flavors. In some cases, the cans are even flavored, with chocolate or caramel being popular options.
Espresso: This type is a shot of concentrated coffee made by forcing hot water under pressure through finely-ground coffee beans. The resulting brew is strong, dark, and highly caffeinated. 
Gelling agents are necessary for making coffee jelly as they help create the jelly effect. There are two types of gelling agents you can use depending on the availability and your preference.
Gelatin:  This flavorless substance is made from the protein found in animal tissue. It's used as a gelling agent in many food products, including jellies and marshmallows. Gelatin can be found in three forms, powder, granule, or sheet. 
Agar-Agar: This is a seaweed-derived gelatin that is used as a vegetarian alternative to animal gelatin. It's often used in desserts, but it can also be used in savory dishes. Agar-agar is available in dried or powder form and is frequently found in Asian grocery stores.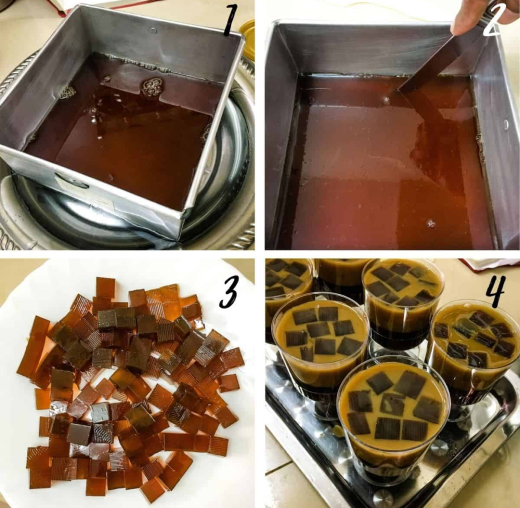 Making the Coffee Jelly
To make coffee jelly, the first step is to boil the water. Next, dissolve the gelling agent into the water and stir until it has dissolved completely. Then, add sugar and stir to dissolve completely.
The next step is to add your choice of coffee into the mixture. If you are using instant coffee powder, make sure you stir well to dissolve the coffee completely. 
Then, pour the mixture into molds or ramekins, then refrigerate until set. When ready to serve, garnish with whipped cream and a drizzle of chocolate syrup if desired.
Variations to the Coffee Jelly Recipe
Making Coffee Jelly is an easy way to make a sweet treat. The recipe is flexible and can be adjusted to suit your taste. Here are some ideas:
Add simple syrup to sweeten it up a bit. Add 1/4 cup of simple syrup per cup of brewed coffee.

Add chocolate chips to the jelly for a more decadent treat. Just add 1/2 cup of chocolate chips per cup of brewed coffee.

Experiment with spices and extracts like vanilla extract or cinnamon. Just add 1/4 teaspoon per cup of brewed coffee.

It can be made creamier and more like pudding by adding milk, such as whole milk, almond milk, or soy milk.
How to Enjoy Coffee Jelly
There are many ways to enjoy coffee jelly. Below are some suggestions:
Top with whipped cream and shaved chocolate for a decadent dessert.

Add a scoop of coffee jelly to your morning smoothie. 

Make a parfait by layering slices of cake or pie with coffee jelly between the layers, then topping it all off with whipped cream and sprinkles.

Serve alongside grilled cheese sandwiches or grilled ham-and-cheese sandwiches.

Serve the coffee jelly over ice cream or use it as a topping.

Use it as a topping for pancakes or waffles with syrup or butter.