There are many high-quality chocolate wrapping machines available. So, when it comes to choosing the right one for you, it is best to choose one that is best suitable for your production needs. It is also best to choose a chocolate wrapping machine according to your interests and more. This article gives details about these machines.
Types of Chocolate Wrapping Machines
Please note that there are advantages and disadvantages even with top-notch equipment. Other than that, the following are the main types of chocolate wrapping machines on the market:
Chocolate Coin Wrapping Machines
This chocolate wrapping machine is used to wrap chocolate in the shape of a coin. The modern type of this machine has the ability to pack chocolate with a single chromo paper for colored Bristol paper.
Advantages
One main advantage of using these machines is that they have a servo intelligence control system, which causes easy usage. Other advantages are as follows:
It's not noisy.

It is fully automatic and directly connects to the production line.

It has a touch screen interface that is convenient for the user with its menu and all the parameters.

It has enhanced safety due to having sensors that automatically stop machine operation if there are issues.
Disadvantages
The purchasing and setting up costs are high.

It requires more space than other chocolate wrapping machines due to it covering a wide floor range.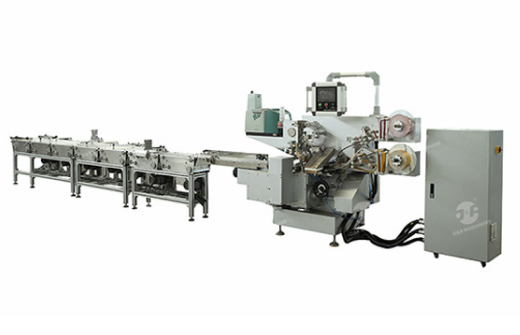 Chocolate Fold Wrapping Machine
This chocolate wrapping machine wraps chocolate in different sized parlance and tablet formations in the envelope style. It can use one or two films simultaneously to wrap up chocolates. It also uses backed or single aluminum to wrap the chocolate in a way that delivers a perfect seal.
Advantages
You can get a good volume of outlets in a minute by setting up random and horizontal outlets.

Being flexible, you can use different wrapping materials to easily wrap chocolates of any size.

It includes a color mark tracing system for more wrapping efficiency.

Being fully automated, it also has more accuracy and saves time.
Disadvantages
It is costly to buy and install.

It also takes a lot of floor space for easy installation due to its huge size.
Chocolate Foil Wrapping Machine
It is a machine that you can use in wrapping ellipse chocolate or ball chocolate using different types of foils.
Advantages
It adopts a frequency converter technique that frequently converts the wrapping dimensions of the machine.

It is user-friendly with a complete PLC control system, making it easy to operate.

The machine wraps the chocolate at high speed and gives it a wonderful appearance.

It has very low operational costs since it is automatic, and you do not need a lot of manpower.
Disadvantages
Any small malfunction of the machine can lead to the stoppage of the machine for a long period.

The initial cost of purchase and installation is also high.
Chocolate Bar Wrapping Machine
This chocolate bar wrapping machine packages chocolate bars in aluminum, paper, or cardboard wrappers. This equipment also seals wrappers individually for the utmost convenience in usage and storage.
Advantages
It guarantees superior wrapping quality with top-notch designs.

It also provides various wrapping solutions in the form of envelopes, bands, cubes, etc.

This equipment has special features that improve operational ease.

It is fully automatic, which speeds up the wrapping process of chocolate bars.

Its handling process is tremendously proficient and gentle, thus saving costs due to avoiding breakages.
Disadvantages
Even though it's easy to operate, some training may be needed on certain wrapping specifications.

The primary purchasing and repair costs are expensive.
A Manual vs. Automatic

Chocolate Wrapping Machine
Manual Chocolate Wrapping Machine
It's great for small-scale wrapping of chocolate.
It takes a long time to wrap just one bar of chocolate.
It is more affordable to obtain and operate.
Tons of manpower are required to operate.
You can wrap chocolate up to a certain size.
This chocolate wrapping machine is easily portable due to its small size.
To perform some functions, it depends on pneumatic and electric systems.
It's not possible to integrate the machine into the automatic chocolate production line.
Not that efficient at wrapping chocolates
It requires more human involvement due to it having few parts.
Fully Automatic Chocolate Wrapping Machine
These machines can wrap chocolate on a bigger scale.
You can wrap a plethora of chocolate per minute due to its high-speed operation.
It is more expensive to acquire, but it is more affordable to operate.
It needs little to no manpower to operate.
It is more flexible to wrap chocolate in various sizes.
Due to its heavy and big size, it requires a bigger floor space.
Some factors of major functions depend on the electric and pneumatic systems.
You can easily integrate the machine into the chocolate production line.
Extremely efficient at wrapping chocolates
It has many parts, so not much human support is needed.
Conclusion
With all the wonderful chocolate wrapping machines out there, it could be confusing to choose the right one for you. There are various types of chocolate wrapping machines of various sizes. You can also choose to buy a manual or automatic chocolate wrapping machine. And as previously stated, any product has advantages and disadvantages, even if the product is top-notch.
So, it all just depends on what is best for your production needs. This includes whether you are making a small production, what type of chocolate you are making, and more.