There is a lot that you should consider before purchasing a chocolate dipping machine for candies and confectioneries. With this in mind, a chocolate dipping machine is an electrical mechanical unit that can assist in dipping an array of ingredients into chocolate.
A chocolate dipping machine is used by many confessionary industries to coat different ingredients and increase the final appearance of a product to appeal to different customers. There are several types of machines used to make confectionery and candy, especially those that include chocolate.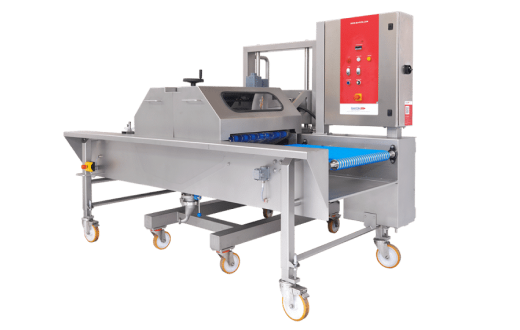 Primary Levels of Production
The primary levels for production while using a chocolate dipping machine are very straightforward. Generally, there are about five steps or levels used for this machine. The first level includes preparation. During the level of preparation is where the chocolate dipping machine is installed on a flat level surface and connected to a suitable power supply. The next level is the melting of the ingredient being used; this could be chocolate.
During this level of production, the correct amount of chocolate is fed into the tank of the machine to begin the melting process. Also, during this production level, the correct temperature is usually set between 45° c to 50° c. Chocolate is continuously stirred during this process. The production levels for cooling and tempering are the last stages.
Chocolate Melting Machine Vs Dipping Machine
There is a difference between a chocolate dipping machine and a chocolate melting machine. Both machines serve different purposes but have many similarities. They can both be used to melt chocolate efficiently. However, a different machine will help you coat different confectioneries with melted chocolate and increase the appearance to appeal to a larger customer base.
In contrast, a chocolate melting machine uses solid chocolate and converts it into a liquid form. It has a pan that sits in hot water while a manual operator controls the temperature with the thermostat. When using a chocolate melting machine, the water heats up to a specific temperature to melt the chocolate as it is continually being stirred. The chocolate in a melting machine will be consistently stirred to maintain a consistent overall temperature. The water temperature is used to melt the chocolate.
Chocolate Dipping Machine
Depending on what model you decide to purchase, the configuration, power rating, and quality standards may differ. Generally, a chocolate dipping machine comes in a variety of sizes. The most common sizes of these machines are available in small and large. It is best to choose a machine according to the area in which the confectionaries will be working. A larger work area can manage a larger chocolate dipping machine, in contrast to having several small machines.
It is important to know that the machines that you purchase could consume more energy if they are larger. It is best to use cost and demand principles to decide the power rating that you need.
A chocolate dipping machine's material construction is usually high-quality stainless steel. High-quality stainless steel is easier to clean and maintain. Also, it increases the hygiene levels of the entire production process.
Where you purchase your chocolate dipping machine matters because of the quality standards that are set in place. There are many national and international organizations that ensure that the machine meets specific standards for manufacturing. If a chocolate dip machine is of higher quality it will last longer, be more dependable, and have higher efficiency.
Another attribute of a higher quality chocolate dipping machine is its production capacity. This means that each machine model has different production speeds that affect how many confectionaries you can produce. It is imperative to determine how many confectioners you can produce per minute or by an hour to ensure you have the right model to suit your needs.
In addition to this, there are diverse types of chocolate dipping machines. Also, there are several categories of chocolate dipping machines that are produced at various levels of capacity. Also, you can purchase a fully automatic, manual, or semi-automatic chocolate dipping machine.
Machine Compatibility
Is it possible to use a chocolate dipping machine with other compatible equipment? The answer to this question is, yes. A compatible machine that you can use with a chocolate dipping machine is a tempering machine. By using both machines, it is possible to increase the capacity and production speed of making a variety of confectionaries.
General Applications
Did you know there are several ways that you can use a chocolate dipping machine? It is centrally used to coat food products and ingredients in a precise layer of chocolate. Chocolate dipping machines can be used in a variety of industries, including snack bars, cafeterias, plazas, breakfast shops, and restaurants. Some of the ways that you can use a chocolate gift machine besides coating ingredients include using it as a food heater, steamed buns, heating melted chocolate chunks, and in the beauty industry, as well, making a variety of products.
Purchasing a Chocolate Dipping Machine
When purchasing a chocolate dipping machine, there are certain aspects that you want to look out for before making a final purchase. A major aspect that you should look out for when purchasing any chocolate dipping machine is to consider any advanced features.
Also, the bowl used on a chocolate dipping machine should be stainless steel or better; this is because stainless steel is mostly rust-resistant. Also, you can wash the components with tire pressure and not worry about the water damaging cleanable components.
Key Benefits
Some of the key benefits of using a chocolate dipping machine include the efficiency of energy consumed. Many models that are newer will not consume much power and this can decrease your energy bills. Also, stainless steel chocolate dipping machines have decreased issues of contamination. This is because many types of bacteria do not easily grow on stainless steel, and it is easier to clean.
Another key benefit is the fact that there are various capacities of chocolate dipping machines. You can buy very small ones that hold 3 kg or less or very large ones that hold 24 kg or more. This allows you to achieve your production goals and choose the right chocolate dipping machine for your production line.