China is the world's largest producer of chocolate, with nearly 16 million tons produced in 2016. The industry is massive and fast-paced, with companies working to cut costs and improve efficiency to stay competitive.
In this blog post, we explore how China's chocolate production lines work and what you need to know about them. If you're interested in learning more about chocolate production lines as to start a confectionery business or a new chocolate manufacturing business, this might be the post for you.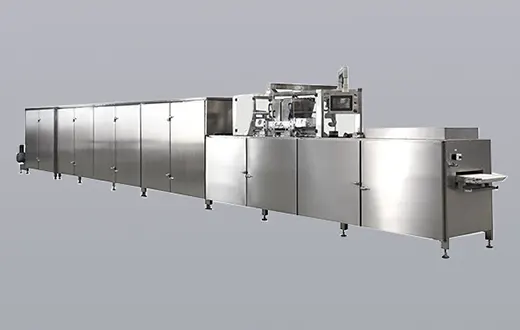 What is a chocolate production line?
A chocolate production line is a closed system for making chocolate, chocolate fillings, chocolate balls, and all sorts of flavours. It utilises raw material in large quantities to produce high-quality chocolate goods. Automatic or semi-automatic chocolate production lines are available.
6 Types of chocolate production line for different end products
Chocolate moulding production line produces chocolate bar and center-filling chocolates. This maybe the most popular type of chocolate production lines.


Chocolate one shot depositing line produces center-filling chocolate balls.


Lollipop chocolate production line produces chocolate lollipop and decoration chocolates.


Chocolate lentil production line produces chocolate beans.


Chocolate chip depositing line produces chocolate chips.


Chocolate candy bar line produces chocolate candy bars.
How Do Chocolates Products Get Made in a production line?
Taking chocolate candy bar production line as an example, a typical and complete chocolate production line usually has 3 stages:
1. Chocolate preparation lines to pre-process chocolate for further manufacturing
The chocolate preparation line usually uses eight different types of machines:
Sugar grinding machine: an ideal machine for producing icing sugar for pastries and confectionery manufacturing.


Chocolate refiner: the final grinding of all the particles in the liquid chocolate to produce an extremely smooth texture in which no grit can be detected on one's tongue or pallet.


Chocolate ball mill: a batch type refiner that grinds chocolate cream (natural or palm-based chocolate, cream, or similar products), using steel balls which will grind the chocolate cream homogeneously in the double jacketed stainless steel tank with the temperature controller.


Chocolate storage tank: a  temperature-controlled and fully jacketed machine for a wide range of food products including chocolate and other fat-based products to wax.


Chocolate tempering machine: a device to to create hard and shiny chocolate products by melting, decrystallizing, and crystallizing it.


Feeding pump: mainly used for pumping and conveying of chocolate pastes and other pastes products.
2. Kitchen system to cook chocolate automatically
After the pre-processing of chocolate and other materials, a chocolate kitchen system is used to cook the product. Usuallty it is combined of:
Automatic weighing and dissolving system:

An Automatic Weighing and Dissolving System can dissolve and combine seven liquid ingredients (six valves for liquid and one for water) and dry confectionery ingredients and mix them into a single mass. One screw sugar feeder, one weighing tank, one or two dissolving tanks, and slurry transfer pump are included. Coil dissolving tank or double-stirrer dissolving tank may be chosen.


Nougat batch cookers with aerator and nougat batch cookers with aerator, nuts, dry fruits and caramels:



There are a variety of cookers designed for the production of a variety of products, from marshmallow to pectin jelly to caramel to nougat. Continuous processes often use two main types of cookers. The batch cooker is the best choice for nougat and caramel or toffee production. Cooked using steam and mechanical agitation, it is heated to a certain temperature before a vacuum is applied to immediately reduce the temperature to approximately 80°C for subsequent processing.




Double Z mixer:



Z Blade Mixer is used for uniform mixing of semi-solid materials. The machine consists of a U-shaped bowl with 'Z' shape blades that rotate in opposite directions for proper mixing of material. A suitable capacity motor and gearbox are installed to match the process and product to achieve optimal performance.




The piping system:



Stainless steel pipings are utilised to deliver chocolate from melting and tempering tanks to process equipment, which may be single-walled straight pipe or double-walled water-coated pipe. At both ends of the pipe, sanitary connectors are welded. In order to keep the chocolate at the right temperature transfer, insulated and electric exterior heat sources are used. The water-jacketed pipe is heated with heated water circulated through its outer layer.
3. Forming line to finish chocolate products
A forming line is final the step to finish the end chocolate products. It includes: 
Single couple forming rollers and double couple forming rollers:



Forming rollers are utilised to bend or form the chocolate product in shape. In order to finish a process that forms the final product, a progressive series of forming rollers is assembled. Rollers are usually made from hard-chromed steel or stainless steel.




Single pressing roller:



The purpose of the single pressing roller is to apply an even layer of extruded or calendered film to the substrate.




Chilling water system:



A chilling water system is employed in the chocolation production line to cool heated liquid in molds to precise shapes.




Cooling tunnel:



A chocolate cooling tunnel with a temperature control system adjusts the tunnel temperature to ensure optimal product gloss.




Slitter and separated conveyor:

Slitter and separated conveyor belts are logistics structures that process items from a single input conveyor belt and distribute them to other belts.


Guillotine:



The guillotine works with fully servo controlled motions at medium and high capacity. Depending on the end products, the guillotine features ultrasonic blades, heated blades or special blade design or moving belt split. The slab is carefully and highly precisely cut into bars, bites or smaller portions.




Conveyor:



Mechanical conveyors are primarily used to move ingredients and finished products between the production processes.




Chocolate enrobing line:



Chocolate enrobing line is used to produce confectionery products on a variety of distinctive foods such as biscuits, wafers, egg rolls, cake pies by applying chocolate on them.
The Advantages of D&R Machinery's chocolate production lines
18-20 moulds per minute can be achieved on the chocolate production line manufactured by D&R machinery in China.





With servo control, you can precisely control the production line and ensure its stable operation, as well as perform remote diagnosis of it effortlessly.





The contact material is food-grade.





The production line is simple to clean and deposit accessories in minutes.





With the same amount of energy used, this line provides greater productivity and reduces the production cost.





Our lines are carefully laid out by seasoned engineers in an exacting scientific manner, allowing you to increase the versatility of products while also saving you a lot of space.





The chocolate production line industry produces an average of 12-15 moulds/minute, whereas our production line produces an average of 18-20 moulds/minute, which is far above our competitors.





We assist customers in monitoring and analysing machine data through Remote Monitor modular and provide 7x24 online service, helping them reduce downtime and repair time, restart production quickly.





With D&R Machiner's chocolate production lines, you can switch between manufacturing different kinds of chocolate products, double color, spray color, and center filling chocolate, in the same factory using just one line, saving factory space and improving the factory environment.
Hopefully, this post will help you to learn about chocolate production processes. If you have any questions, please do not hesitate to contact us.